It's not an overstatement to say that winter is never dull when we have ginger. Known as the king of winter ingredients, ginger is as much a savory kick to Vietnamese cuisine as a natural cure for many illnesses. The Collective Memory team curates a special winter survival kit which celebrates all things gingerly.
1) Gingergrass Scented Candle
When life gives you lemon and ginger make gingergrass (which stands for Ginger and Lemongrass) scented candles. Native to India and tropical Asia, these two ingredients are often found in Asian foods, ranging from Thai green curry and Malaysian laksa to the Vietnamese steamed lemongrass-infused clams. With the delicate heat of ginger mixed with refreshing hints of lemongrass, this scented candle packs an aromatic and invigorating punch that will keep your living space warm and fresh.
2) Mango Ginger Jam
Beautifully amber-colored, the Mango Jinger Jam is made from fresh Vietnamese grated ginger, pure cane sugar and Cat Hoa Loc, a Vietnamese yellow mango known for its strong flavor and delicate sweetness). It is cooked in a copper cauldron using a traditional French jam-making heirloom recipe without any preservatives or food coloring. It is best served on brioche or sandwiches.
3) Ginger, Cinnamon and Citrus Honey
Locally sourced from the lush green jungles of Son La Province, with added natural extracts from Vietnamese cinnamon, ginger and citrus, it is bound to excite every palate. It tastes almost like ginger syrup with a delicate fragrant heat and floral, spicy and citrusy notes. From morning toast and hot tea to gingerbread and a roasted turkey, there is nothing that doesn't taste better with a dollop of ginger, cinnamon and citrus honey.
4) Ginger Wood Linen Spray
Locally made from a mixture of natural essential oils from Vietnamese ginger, cedar wood, galangal, vanilla, elemi rosin, patchouli, North Vietnamese wild pepper, Siam wood and Laos wood rosin. This wonderful spray will transport you to a herbal bath nestled deep in the rolling hills of Sapa and the fragrance will linger like mulled wine bubbling on a stove. It can be used for clothing, cars, wardrobes, pillows, and the kitchen and bathroom.
5) Ginger Heating Pad
This is considered an alternative for hot water bottles. Like a cup of breakfast tea in bed or a steamy bath after a hardworking day, this heating pad provides the kind of comfort that you often experience in a spa. Time-consuming? Not at all. Pain relief? Absolutely. Reusable? Without a doubt. Imagine nestling under the duvet on a cold night with your favorite book and a heating pad to toast your feet.
Purchases can be made directly at:
Collective Memory: 12 Nha Chung Street, Hoan Kiem District, Hanoi, Vietnam
Or via facebook/Instagram inbox
Delivery is available
International shipping is available
============================================================
BỘ KIT SINH TỒN CHO MÙA ĐÔNG HÀ NỘI
Gừng từ lâu đã trở thành một loại gia vị không thể thiếu mỗi khi đông về. Ngay trong chính loại gia vị dân dã này đã chứa đựng một kho thuốc quý. Collective Memory giới thiệu bộ sản phẩm chăm sóc sứu khoẻ với thành phần chủ đạo là gừng.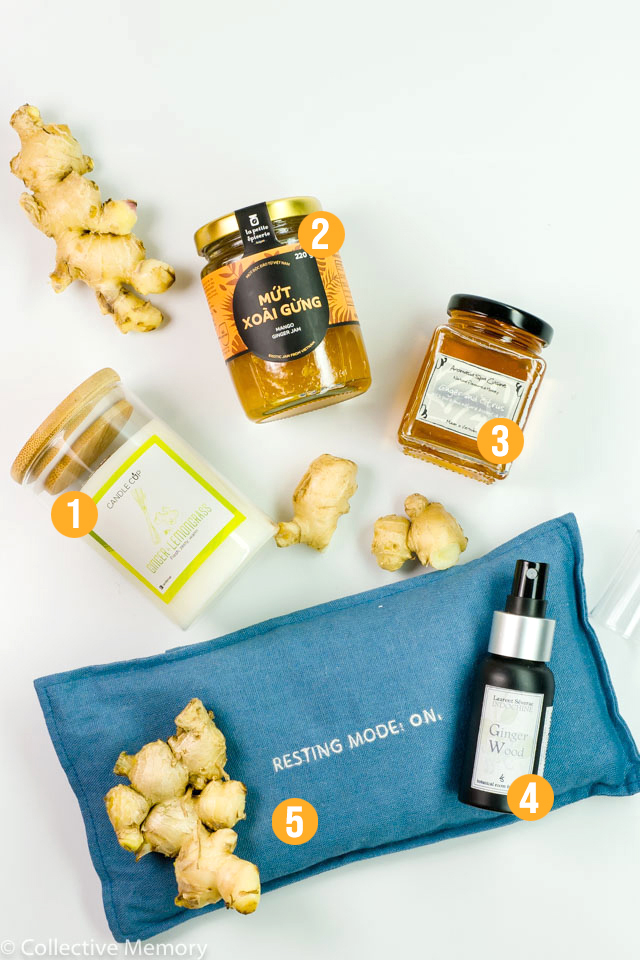 1) Nến thơm Gingergrass
Lấy cảm hứng từ món ăn đường phố nổi tiếng Sài Gòn là ngêu hấp sả, sự kết hợp của Gừng (Ginger) và Sả (Lemongrass) giúp biến không gian sống thành một spa tại gia chỉ trong chốc lát. Tính ấm nóng của gừng, tươi mát của sả kết hợp với gỗ hoàng đàn đem lại một chất xúc tác hoàn hảo cho những giây phút tận hưởng an yên tại nhà. Nến được đổ thủ công bằng tay và được làm từ sáp cọ tự nhiên cùng nguồn tinh dầu sạch cao cấp.
2) Mứt Xoài Gừng
Có màu hổ phách tự nhiên, mứt Xoài Gừng được làm từ gừng nạo, đường mía nguyên chất và Cát Hoà Lộc (một giống xoài vàng của Việt Nam được trồng ở đồng bằng sông Cửu Long vốn được ưa chuộng bởi hương vị ngọt đậm đà). Mứt được nấu trong nồi đồng và sử dụng công thức làm mứt truyền thống gia truyền của Pháp mà không có bất cứ chất bảo quản hay tạo màu nào. Nếu đã chán các loại pho mai, xúc xích hay bơ đậu phộng thì bạn và gia đình có thể "đổi gió" với mứt xoài gừng. Ăn kèm với vài lát bánh sandwich cho bữa sáng thêm đậm đà và dưỡng chất.
3) Mật ong tinh chất gừng, quế, chanh
Thành phần base chính là mật ong rừng được lấy trực tiếp từ Sơn La vốn nổi bật với các lớp hương thơm đặc trưng vị hoa rừng. Sau đó được kết hợp hài hoà với tinh chất gừng, quế, chanh 100% từ thiên nhiên được chưng cất và chiết xuất tại Hà Nội để tạo nên một loại mật ong tinh chất thảo dược. Sản phẩm tốt cho sức khoẻ, đảm bảo an toàn, giúp tăng cường sức đề kháng, điều hoà đường huyết, hỗ trợ tiêu hoá, kháng khuẩn, giảm cholesterol và hỗ trợ điều trị cảm cúm, đau họng. Hãy bắt đầu một ngày với một cốc nước ấm pha cùng với chút mật ong gừng, quế, chanh sẽ giúp làm ấm bụng và thanh lọc "detox" cơ thể. Hay cho chút mật ong vào món bánh quy gừng để tạo vị ngọt ấm tự nhiên.
4) Nước hoa xịt phòng Ginger Wood
Với thành phần là tinh dầu tự nhiên chiết xuất từ gừng, củ riềng, gỗ bạch đàn, vanilla, nhựa cây elemi, cây hoắc hương, nhựa cây gỗ Lào và tiêu rừng của miền Bắc Việt Nam, mùi hương Ginger Wood như một liệu pháp trị liệu tinh thần giúp giải toả những năng lượng tiêu cực, cải thiện tâm trạng người dùng. Sản phẩm có thể dùng để xịt lên chăn ga gối đệm giúp tăng chất lượng giấc ngủ, xịt vào áo khoác như một cách ướp hương cho cơ thể mà không cần dùng nước hoa, hay xịt ô tô thay cho tinh dầu treo xe, tủ quần áo thay cho túi thơm, cũng như để khử mùi nhà tắm và nhà bếp.
5) Gối chườm thảo mộc gừng
Giống như một tách trà nóng vào buổi sáng hay một bồn tắm xông hơi cuối ngày, gối chườm thảo mộc giúp xoa dịu cơn đau nhức mỏi cơ, xương khớp, làm ấm cơ thể và giảm đau bụng khi "đến tháng". Chỉ với 2 phút quay lò vi sóng là bạn có thể dễ dàng sử dụng ở nhà cũng như ở cơ quan.
Sản phẩm có thể được mua trực tiếp tại:
Cửa hàng Collective Memory: 12 Nhà Chung, quận Hoàn Kiếm, Hà Nội, Việt Nam
Hoặc đặt mua online qua inbox cửa hàng